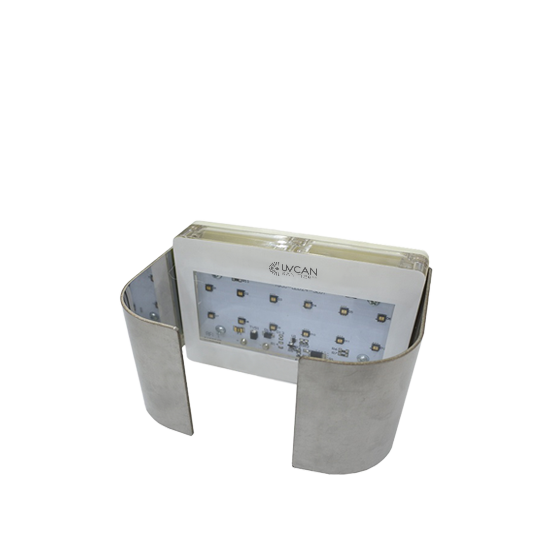 Description
With UV CAN's Crocus Interior Handrail UVC Disinfection Unit, you can effectively sanitize escalator and moving walkway handrails providing an unprecedented level of confidence to workers and customers alike. You can now achieve 99% reduction of viruses and bacteria 24/7 without added chemicals disinfectants.
You can the option to add visible attractive signage stating "This Handrail is Disinfected with UV-C" to your purchase. The signage conveys to customers that the handrail is disinfected and safe to use, as well as demonstrating your dedication to limit spread of disease.
 If you would like to further reassure your customers, you can also purchase the shell of the Crocus Exterior unit. The blue indicator light and mounted shell's visibility is an additional way to show that the UV-C light inside the escalator is working so customers can safely hold the handrail.
Note that chemical cleaning disinfects surfaces only when they are wet. In the process those chemicals also produce harmful irritants to the skin, eyes, and lungs. The Crocus UVC Disinfection Unit continuously and effectively works to prevent the regrowth of bacteria. This saves time, budget, exertion, and minimizes workers' and customers' exposure to adverse chemical irritants and microorganisms.
⚠*Please note: WARNING – UV radiation emitted from this device. Unintended use of the device, or damage to the housing, may result in exposure to ultraviolet radiation. Avoid exposing skin and eyes to ultraviolet radiation; may cause irritation. Read the label and any operating manual before using.
Features
High intensity UV LEDs eliminate 99% of viruses and bacteria at close range
No risk of damage from entrapment or vandalism as unit in installed inside the escalator or moving walkway
UV-C light automatically shuts off if unit is removed or handrail stops rotating, eliminating risk of exposure
When properly installed, will not affect structural integrity, appearance, or functioning of escalator or handrail
UL approved in North America
Benefits
Restore your customers' confidence: Customers know they can safely use handrails without risk of infection, reducing chances of injuries, falls, or accidents
Removes need for chemical disinfecting which can be harmful to those with allergies or asthma symptoms
Engineered with safety in mind: No fear of UV exposure as it is protected within the escalator or moving walkway system
Applications
Shopping Malls
Schools and Universities
Airports
Public Transit Stations
Cruise Ships
Conference Centers
Event Venues
Hotels
Office Buildings
Commercial Spaces
Healthcare Facilities
*Includes 1 year warranty
Specifications
| Parameter | Info |
| --- | --- |
| Best Distance for Sterilization | <15mm (the vertical distance between lamp and disinfection area) |
| Operation temperature | -25°C~+60°C |
| Optical | |
| LED Size | LED 3535 *12PC |
| Wavelength | 270~285nm |
| Electrical | |
| Input Voltage | DC24V±10% |
| Input Current | <0.15A |
| Mechanical | |
| Material | PC & SUS304 & Quartz Glass |
| Safety | |
| Protective Level | IP55 |
| Initial Radiation Intensity | ≥45µW/cm2 |
| Radiation Intensity (10,000Hrs) | ≥38µW/cm2 |
| Environment | |
| Storage Environment | -30°C~+70°C |
| Relative Humidity | ≤95% |
| Design Lifetime | |
| On and Off times | >30,000 times |