Frequently Asked Questions
Categories
What's your Return Policy?
We have a 30-day return policy, which means you have 30 days after receiving your item to request a return. 
 
Returned products will not be eligible for a refund due to:
- the lack of external packaging and/or the original internal packaging.
- the absence of integral elements of the product (accessories, manuals, parts, ...);
- damage to the product for reasons other than its transport.
 
To start a return, you can contact us at info@uv-can.com. If your return is accepted, we'll send you instructions on how and where to send your package. Items sent back to us without first requesting a return will not be accepted. The shipping costs for returning the goods are charged to the customer.
 
You can always contact us for any return question at info@uv-can.com. 
What's your Shipping Policy?
Regular orders are shipped within 1-2 business days. Orders placed over the weekend are dispatched on Mondays. 
For larger orders pre check the availability with us to avoid longer lead times. Typical lead times may vary from a few hours to 4 weeks from the date the order has been accepted and activated depending on the inventory level of each product for a large order. 
What are your Shipping Options?
Projected delivery dates are in business days. Our products ship from our warehouse in North Vancouver, BC, Canada.
For larger orders, please contact info@uv-can.com. Our shipping team will advise your shipping options and follow your instructions making the shipment to your desired location.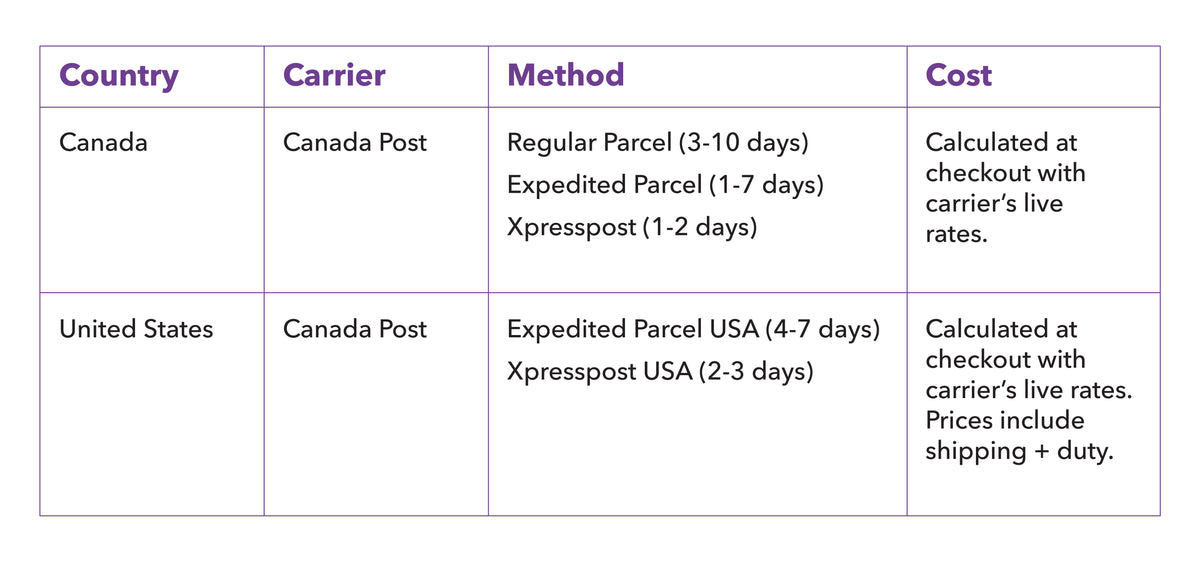 What is UV?
UV (ultraviolet) light is one among many types of electromagnetic radiation, for example, visible light, x-rays, and gamma rays. UV light has three types (or wavelengths):
UV-C from 200nm (nanometers) to 260nm,
UV-B from 280nm to 315nm, and
UV-A from 325nm to 400nm
UV-A and UV-B are the wavelengths that pass through our atmosphere; UV-A causing sun tanning and UV-B, sun burning. Our ozone layer stops UV-C from reaching us on earth. This is good news for us because UV-C is absorbed by DNA. However, using technology, we can use this property to our advantage to inactivate bacteria and viruses.
How does UV disinfection work?
UV-C radiation disrupts virus' and bacteria's DNA which makes them unable to replicate and multiply. If a cell is unable to multiply and reproduce to infect a host, it is considered dead.This is why UV methods of disinfection are called ultraviolet germicidal irradiation (UVGI): it reduces the number of viable microorganisms by deactivating them, whether it is applied to water, air, or surfaces.
Over the past 50 years, it has been used by hospitals, pharmaceutical facilities, medical practitioners, and many other industries.
How is UV disinfection different from chemical disinfection? What are the advantages?
The most common method of sanitization we use today are chemical disinfectants, which are not always practical or effective and only work while wet. Various chemical disinfectants are also known to cause a variety of health issues such as skin and eye sensitivities and even allergic reactions. It is concerning how this added chemical exposure is affecting users. As a result, many people have a fear of using chemical disinfection processes and consumers are hesitant to use business services. UV sanitization is a solution to these problems as it has been scientifically proven to safely disinfect up to 99% of surfaces and air without leaving any residue while maintaining the time and cost-effectiveness compared to conventional methods.
Do all UVC lamps contain mercury to order to be germicidal, and do all UVC lamps produce an ozone smell?
Most UV lamps used for UV disinfection contain mercury. In the case of low-pressure lamps, only a few milligrams of mercury are present. In the case of medium pressure lamps, which are much higher power, a few grams are present. Low pressure and medium pressure lamps do generate ozone if they have an envelop made of very pure (synthetic) quartz, which allows the mercury 185 nm emission to enter the air. This UV light is absorbed by oxygen in the air to generate ozone. Most UV lamps are made from a form of quartz that contains impurities that absorb the 185 nm emission entirely, so that they produce no ozone.
We keep seeing the terms 'watts' and 'joules' in descriptions of how much UV is required to disinfect something. What do these terms mean? Are they the same? Why are they important?
Most people seem to be familiar with the term 'watts' (from light bulbs and electric bills); but probably not the term 'joules' (a metric measurement term). In short, both are used in measuring energy in any form (e.g., electricity as well as light):
A watt is a measure of the rate of energy delivery (analogous to gallons-per-minute flow rate for water delivery).
A Joule is a cumulative measure of the total amount of energy delivered (analogous to total gallons of water delivered).
It usually is associated with how much time was needed to deliver the energy.
The way the units work is 1 Joule (J) of energy delivered = delivering 1 Watt (W) of energy for 1 second. In the UV world, we usually measure things in small increments, i.e., thousandths of a Joule or Watt. These are shown as 'milli-Joules' (i.e., 'mJ'
or 1/1,000 of a Joule), and milli-Watts (i.e., 'mW' or 1/1,000 of a Watt).
Example: 40mJ (cumulative energy) = 10mW delivered for 4 seconds
What percentage of UV light is blocked out by glass?
Normal glass (as used in windows) is transparent to UV radiation to a wavelength of about 330 nm (UV-A). The transparency is quite high so almost all UV-A light will pass through glass. Below 330 nm (UV-B and UV-C), almost 100% is block by normal glass.
If I wanted to use a UV germicidal bulb to disinfect tools in a plastic container, what effect would the UV light have on the plastic container?
PVC (polyvinyl chloride) blocks (or totally absorbed) the 254 nm ultraviolet light from a "germicidal" UV lamp. Thus, any tools inside a PVC container would not be disinfected at all by a germicidal UV lamp outside the PVC container. Eventually, the PVC will degrade due to the photochemical attack by the ultraviolet light.
Some types of clear polyethylene and Teflon are transparent to 254 nm, but only for a thin layer.
What is the dosage for air? I understand one needs 1/100 of a watt-second per square cm for water purification using 254 nm UV.
Most regulatory bodies now specify a fluence or UV dose of 40 mJ/cm2 (note that 1 mWs = 1 mJ) to assure at least 4 logs inactivation of any pathogenic microorganisms. Since the fluence or UV dose applied is independent of the medium, this requirement would also apply to air. However, I am not aware of any regulations yet regarding UV air treatment.