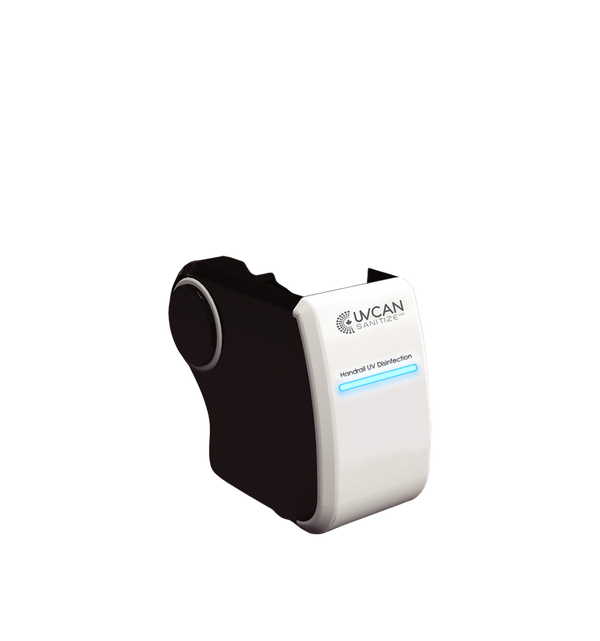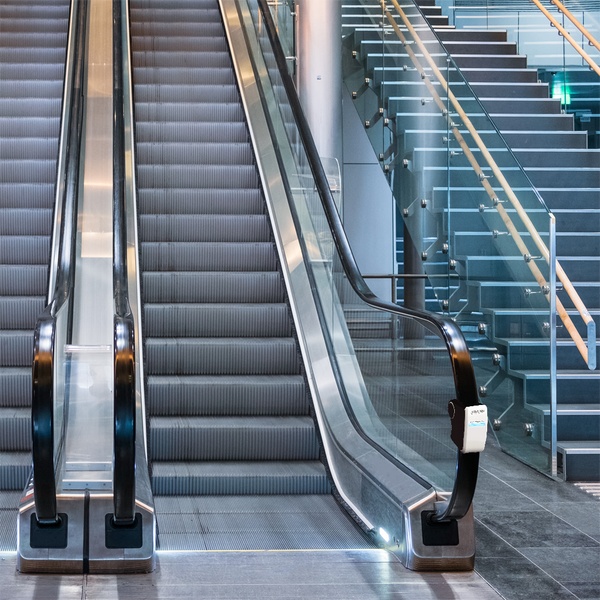 Description
With UV CAN's Crocus Exterior Handrail UVC Disinfection Unit, you can effectively sanitize escalator and moving walkway handrails providing an unprecedented level of confidence to workers and customers alike. You can now achieve 99% reduction of viruses and bacteria 24/7 without added chemicals disinfectants.
 Crocus EXT easily attaches onto any handrail for escalators or moving walkways (glass or stainless steel). Its visibility signals to customers that the handrail is disinfected and safe to use, as well as your dedication to limiting the spread of disease.
 Note that chemical cleaning disinfects surfaces only when they are wet. In the process, those chemicals also produce harmful irritants to the skin, eyes, and lungs. The Crocus UVC Disinfection Unit continuously and effectively works to prevent the regrowth of bacteria. This saves time, budget, exertion, and minimizes workers' and customers' exposure to adverse chemical irritants and microorganisms.
⚠*Please note: WARNING – UV radiation emitted from this device. Unintended use of the device, or damage to the housing, may result in exposure to ultraviolet radiation. Avoid exposing skin and eyes to ultraviolet radiation; may cause irritation. Read the label and any operating manual before using.
Features
High-intensity UV LEDs eliminate 99% of viruses and bacteria at close range
Uses the movement of the handrail to generate its own electricity
Prevents entrapment: Rollers disengage if any clothing or objects are inserted into the unit
UV-C light automatically shuts off if the unit is removed or handrail stops rotating, eliminating the risk of exposure
When properly installed, will not affect structural integrity, appearance, or functioning of escalator or handrail
UL approved in North America
Benefits
Restore your customers' confidence: Customers know they can safely use handrails without risk of infection, reducing chances of injuries, falls, or accidents
Compact & lightweight design: Makes installation quick and easy
Removes need for chemical disinfecting which can be harmful to those with allergies or asthma symptoms
Eco-friendly and energy-efficient: Unit powers itself
Engineered with safety in mind: UV-C enclosed inside the unit with automatic shut-off-feature to eliminate risk of exposure
Applications
Shopping Malls
Schools and Universities
Airports
Public Transit Stations
Cruise Ships
Conference Centers
Event Venues
Hotels
Office Buildings
Commercial Spaces
Healthcare Facilities
*Includes 1 year warranty
Specifications
| Parameter | Info |
| --- | --- |
| Size (W/H/D) mm | 1103*245*270(130*360*270) |
| Weight (kg) | 1.9kg (2.4 kg) |
| Outside Cover | |
| Material | High gloss paint finish |
| Colour | Black & White |
| Generator | |
| DC Output | 10V3-3.2W (handrail speed 25m/min-40m/min) |
| UV-C LED Module | |
| Power Consumption | Max 5 Watt LED Module chip 5 each*2,12mW |
| Wavelength | UV-C: 278nm |
| Lifespan | 10,000 hours |