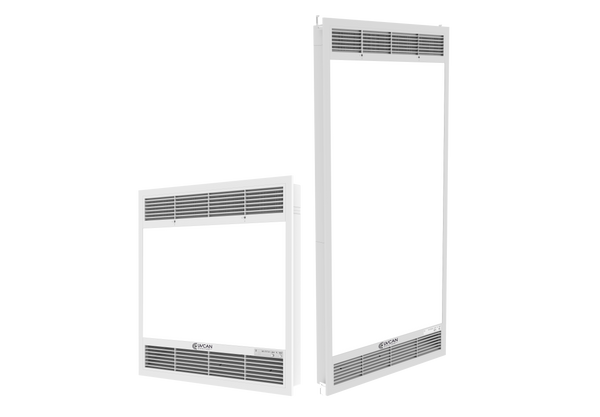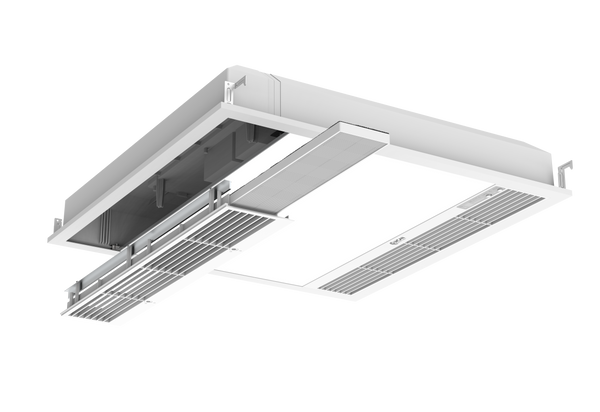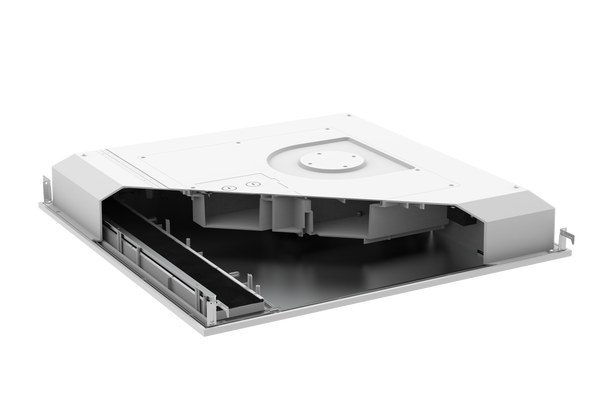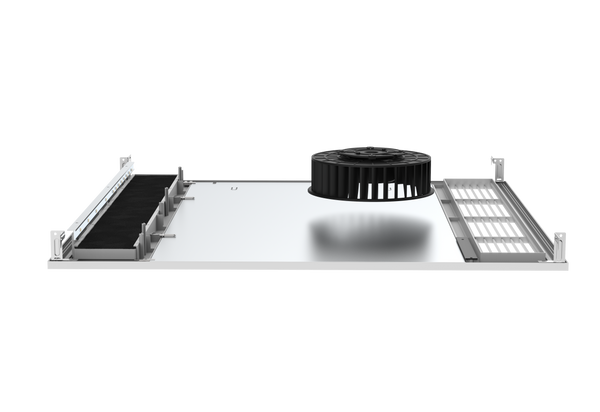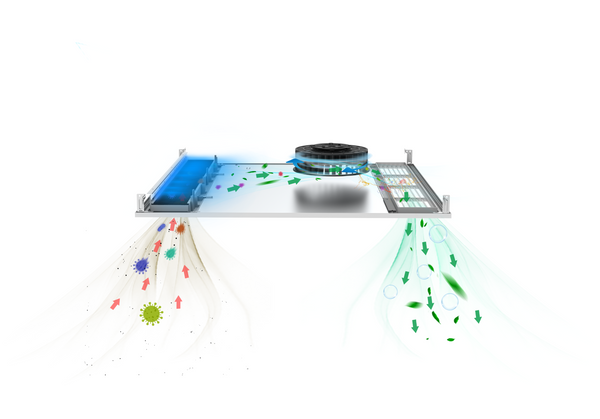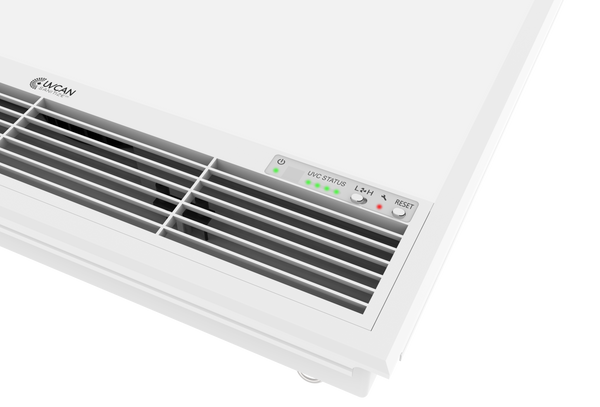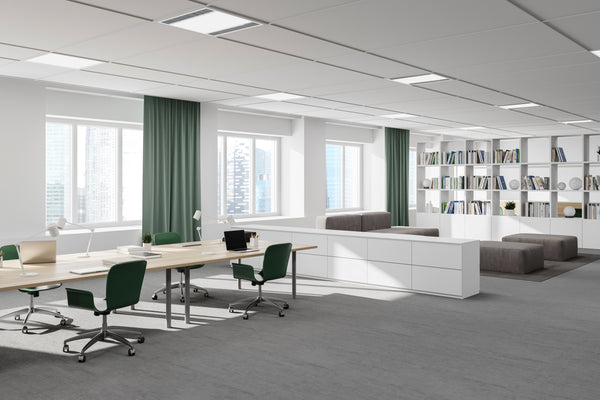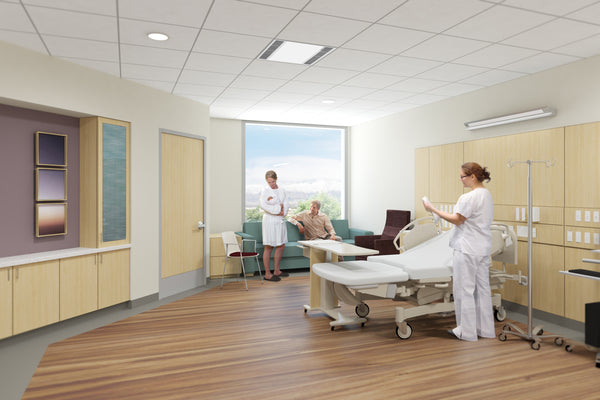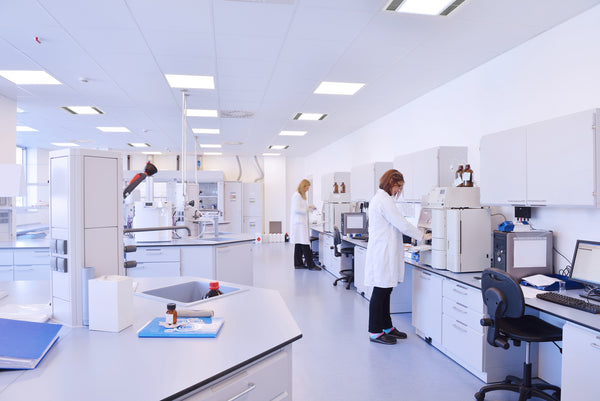 Description
*Now available in Canada, the USA, and internationally
UV Can's ALYSSUM UV-C Air Purifier Ceiling Panel Light is an advanced 3-in-1 hybrid designed to purify the air and provide a traditional light fixture in one unit.  ALYSSUM addresses indoor air pollution by using ultraviolet-C LEDs, fan, and an H13 HEPA filter. Replace your existing 2x2 or 2x4 panel lights with your ALYSSUM unit to filter the air. You can customize the settings via remote control. ALYSSUM helps to achieve CONTINUOUS air filtration even in an occupied room. Its cutting-edge UVC LED technology has a longer lifespan than UVC tube lamps. Install one unit every 34m3 or 12m2 of space for optimal results.
For commercial and industrial use.
⚠*Please note: WARNING – UV radiation emitted from this device. Unintended use of the device, or damage to the housing, may result in exposure to ultraviolet radiation. Avoid exposing skin and eyes to ultraviolet radiation; may cause irritation. Read the label and any operating manual before using.
Features
3-in-1 hybrid UV-C + HEPA air purifier and conventional light fixture
Continuous 275nm UVC air application
Clean Air Delivery Rate (CADR) of 98 to 120CFM
Longer lifespan UVC LEDs at 10,000 hours
Install one unit for every 34m3 or 12m2
Remote operation: Easy to use remote control
Benefits
Helps reduce germs and bacteria in the air
Complies with IEC 62471 photobiological standards
Discreetly replace existing 2x2 and 2x4 panel lights
Room occupancy and activities can continue below
Low noise output at 39.5 to 42.9dB
UVC LEDs and filter are easily replaceable
Applications
ALLYSUM is suitable for occupied spaces such as:
| | |
| --- | --- |
| Hospital | Office |
| Laboratory | Library |
| Shopping Mall | Bank |
| School | Clinic |
Specifications
North American model:
Model No.

ALYSSUM II 110V
ALYSSUM IV 110V
Power (W)

 60W

70W
Voltage
100-277V AC
100-277V AC
Dimensions
603*603*96.5mm 23.74*23.74*3.79in
1213*603*96.5mm 47.75*23.74*3.79in
Wavelength (nm)

275nm
275nm
CADR

90 CFM / 120 CFM
90 CFM / 120 CFM
Noise
39.5 dB / 42.9 dB
39.5 dB / 42.9 dB
Working Temp.

-10~+40°C
-10~+40°C
Storage Temp.
-20~+70°C
-20~+70°C
Warranty

 Whole fixture: 5 years; UVC LEDs: 2 years

Whole fixture: 5 years; UVC LEDs: 2 years
CCT Switch
With CCT Switch, CCT Adjustable
With CCT Switch, CCT Adjustable
CCT
3000K/4000K/5000K
3000K/4000K/5000K
Includes remote control?
Yes
Yes
Includes shockproof buckle?
Yes
Yes
Installation
Recessed-mount
Recessed-mount
UVC System Power
20W (UVC + Fan)
20W (UVC + Fan)
UVC LED Chip
3939
3939
Lifespan of UVC LED Module
UVC Replacement Threshold of 10,000 hours: ≥ 70%
UVC Replacement Threshold of 10,000 hours: ≥ 70%
Conventional LED Power
40W
50W
Conventional LED Chip Type
2835
2835
Conventional LED Efficiency
110Lm/W
110Lm/W
Dimming Settings

Three in one dimming

(0-10V, PWM、0-25k resistance)

Three in one dimming

(0-10V, PWM、0-25k resistance)
CRI
≥ 90Ra
≥ 90Ra
PF

≥ 0.9

≥ 0.9
European model:
Model No.

ALYSSUM II 220V
ALYSSUM IV 220V
Power (W)

 60W

70W
Voltage
220-240V AC
220-240V AC
Dimensions
595*595*96.5mm 23.42*23.42*3.79in
1195*595*96.5mm 47.04*23.42*3.79in
Wavelength (nm)

275nm
275nm
CADR

90 CFM / 120 CFM
90 CFM / 120 CFM
Noise
39.5 dB / 42.9 dB
39.5 dB / 42.9 dB
Working Temp.

-10~+40°C
-10~+40°C
Storage Temp.
-20~+70°C
-20~+70°C
Warranty

 Whole fixture: 5 years; UVC LEDs: 2 years

Whole fixture: 5 years; UVC LEDs: 2 years
CCT Switch
Without CCT Switch, CCT not adjustable
Without CCT Switch, CCT not adjustable
CCT
3000K-6500K
3000K-6500K
Includes remote control?
Yes
Yes
Includes shockproof buckle?
Yes
Yes
Installation
Recessed-mount
Recessed-mount
UVC System Power
20W (UVC + Fan)
20W (UVC + Fan)
UVC LED Chip
3939
3939
Lifespan of UVC LED Module
UVC Replacement Threshold of 10,000 hours: ≥ 70%
UVC Replacement Threshold of 10,000 hours: ≥ 70%
Conventional LED Power
40W
50W
Conventional LED Chip Type
2835
2835
Conventional LED Efficiency
110Lm/W
110Lm/W
Dimming Settings

Three in one dimming

(0-10V, PWM、0-25k resistance)

Three in one dimming

(0-10V, PWM、0-25k resistance)
CRI
≥ 90Ra
≥ 90Ra
PF

≥ 0.9

≥ 0.9