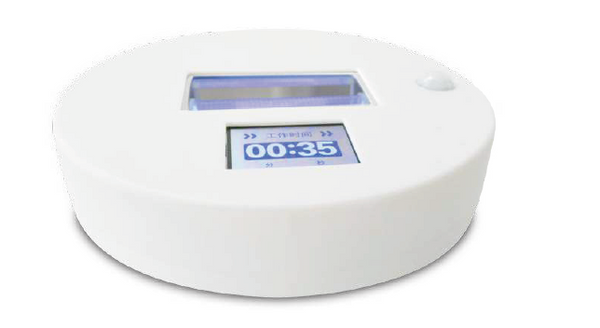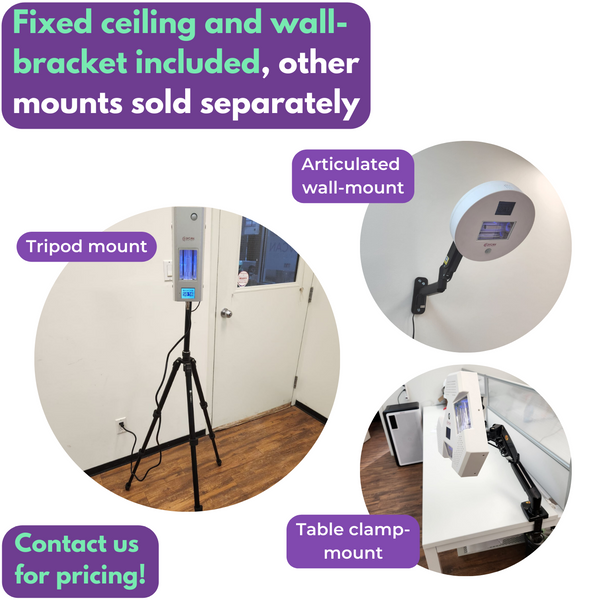 Description
UV Can's DELPHI Far UV 5W and 20W Lights have 1 ultra high purity quartz glass bulb that delivers optimized 222 nm wavelength UV-C disinfection. Use the remote control to schedule operation time intervals and check the remaining lifetime of the bulb on the LCD display screen. Change the infrared motion sensor's settings to turn the lamp on or off when it detects movement. Mount DELPHI on the ceiling or wall to provide disinfection for air and surfaces in line of sight.

⚠*Please note: WARNING – According to the Photobiological Safety Test IEC/EN62471, humans should not be exposed to 222nm ultraviolet radiation over 22mJ in a day. The time humans can be exposed to 222nm is related to the power of light and distance to the light source. Read the label and any operating manual before using.
Features

1 ultra high purity quartz glass 20W bulb provides optimized 222 nm wavelength UV-C disinfection

No ozone production from UV lamps

Remote operation: Easy to use remote control

LCD display screen to customize settings

Displays how many hours are left before needing to replace the lamp

Schedule and customize operation time intervals

Turn infrared motion sensor on or off

2 sensor modes: (I) turn lamp ON when motion is detected and (II) turn lamp OFF when motion is detected

Can be mounted on the ceiling or wall to provide disinfection in line of sight & surrounding air


Benefits
Now you can sanitize using 222nm Far UV-C even in occupied indoor spaces, providing an unprecedented level of confidence to the people that matter most.

Conventional UV-C lights (254nm mercury lamps or 260-280nm LEDs) are limited in that they can only be used safely in unoccupied spaces or completely contained with no leakage.

Far UV cannot penetrate the active layer of human skin and is adsorbed by the top layer of dead skin cells. The eyes' tear layer works to block Far UV, protecting them. This means that Far UV can disinfect air and surfaces even while people are present.

Note that chemical cleaning disinfects surfaces only when they are wet. In the process those chemicals also produce harmful irritants to the skin, eyes and lungs. In addition, focusing on surface cleaning alone ignores one very important fact. COVID-19 is airborne and can stay in the air for up to 5 hours. Installing Delphi Far UV Disinfection Lights in your facility provides you with an efficient way to disinfect the air and surfaces from bacteria, viruses, and other microorganisms.

Applications
| | | |
| --- | --- | --- |
| Retail | Restaurants | Residential |
| Office | Hospitals & Clinics |  Other Commercial Spaces |
| | | |
Specifications
Parameter
5W

20W
Dimensions (mm)


ϕ

210*58.5mm
ϕ254*79.7 mm
Net Weight
1.05kg
1.05kg
Wattage

5W
20W
Wavelength

Far UVC 222nm
Far UVC 222nm
Effective UV Intensity

2000µ W/cm2 (0 cm)
3000µ W/cm2 (0 cm)
Input Voltage
DC24V
DC24V
Voltage
AC100V~240V (with AC/DC Adapter)
AC100V~240V (with AC/DC Adapter)
Ambient Operating Temperature Range
-10°C to +50°C
-10°C to +50°C
Expected Lifespan
+4000hr
+4000hr
Safety Requirement
Mercury-Free
Mercury-Free
Storage Environment
Dry and ventilated
Dry and ventilated
Beam Angle
60°
60°
Optional Function
Motion Sensor and Timer Module
Motion Sensor and Timer Modul
Bulb Casing

High purity quartz glass
High purity quartz glass