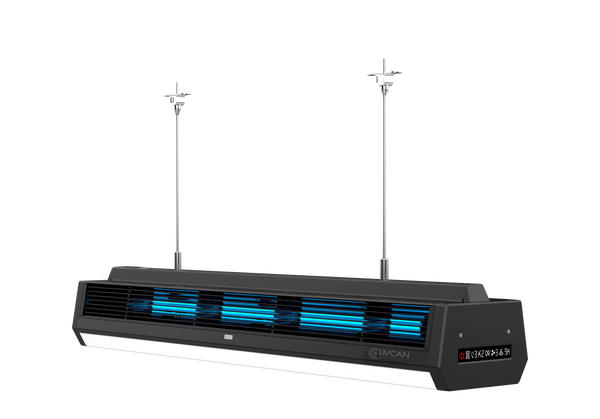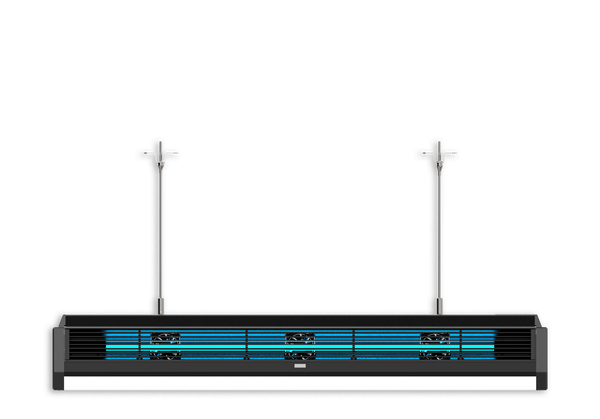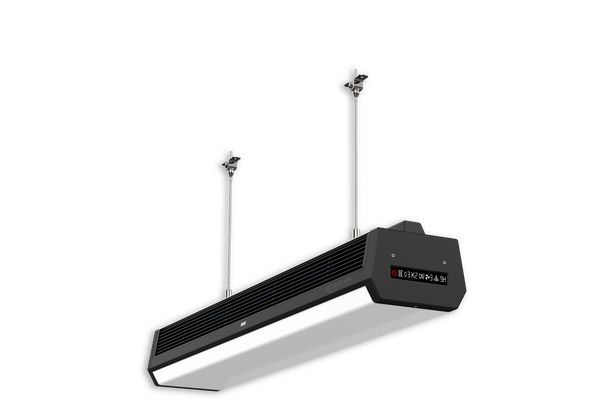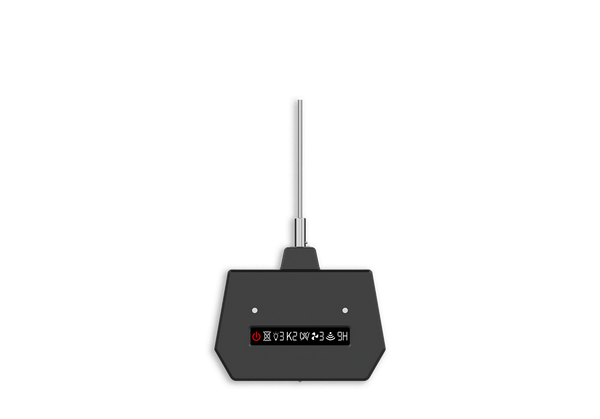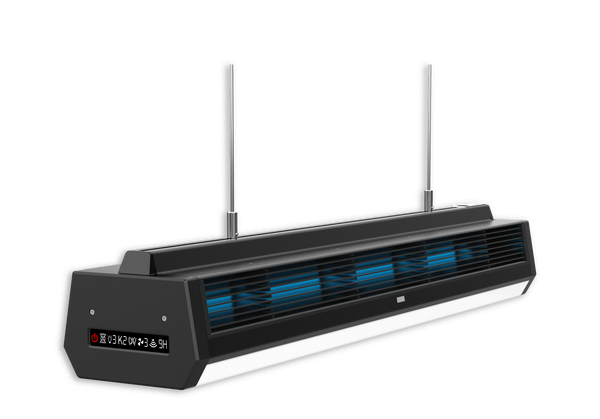 Description
*Now available in Canada, the USA, and internationally
UV CAN's Lupin is a UV-C light and conventional LED light hybrid unit. Lupin uses UV-C to shine horizontally across the upper room of your indoor space (above 2.3m), reducing germs and bacteria in the air. Its airflow acceleration system further improves its prowess. Because Lupin is installed close to the ceiling, it only emits UV-C light along the top part of the room, above people's heads and out of harm's way. Lupin helps to achieve CONTINUOUS air circulation even in an occupied room. 
For commercial and industrial use.
⚠*Please note: WARNING – UV radiation emitted from this device. Unintended use of the device, or damage to the housing, may result in exposure to ultraviolet radiation. Avoid exposing skin and eyes to ultraviolet radiation; may cause irritation. Read the label and any operating manual before using.
Features
2-in-1 hybrid 254nm upper air UVC system and conventional light fixture
Fan helps to circulate the air and improve efficacy
Double-sided motion sensor prevents harmful exposure to UV-C within 1 meter distance
Emits UV-C light from both sides for increased range
Indicator light shows when it is time to change UVC bulb
Remote operation: Easy to use remote control
Louver design shields room occupants from exposure to UV
3 adjustable fan speeds, or choose to leave the fan off
Benefits
Add UV to your existing sanitization routine: UV-C lamps reduce germs in the air
Set and forget: Customize your automated operation time intervals to best suit your schedule
UVC tubes are easily replaceable: Upswing doors make maintenance more convenient
Engineered with safety in mind: Equipped with PIR infrared sensor device to detect movement in either direction of the light and automatically shut off the UVC light
Adjust regular LED light colour to 3 different colour temperatures: 3000K, 4000K, and 5000K
LED light has 5 adjustable LED brightness settings from 20% to 100%

Applications
Lupin is suitable for unoccupied and occupied spaces such as:
| | |
| --- | --- |
| Offices | Occupied public spaces |
| Shopping Malls | |
Specification
Parameter
Info

Power(W)

125W (LED60W + UVC30W*2 + fans5W)
Voltage
100-277V 50~60Hz
Wavelength
254nm
Lamp Type
UVC

LED CCT (Color temperature)

3000k

4000k

5000k

LED Lumen

5200LM

5500LM

Lamp Size

1065*209*162mm

Weight

NW: 12.5kg

GW: 14.1kg

Operating Temperature

~10~35

°

C

Lifespan

UVC: 1 year

LED: 3 years

UV Radiation intensity (1M distance)

>95µw/cm2